Maya Carter top XI in Phoenix
ECNL Phoenix National Event: TDS Best XI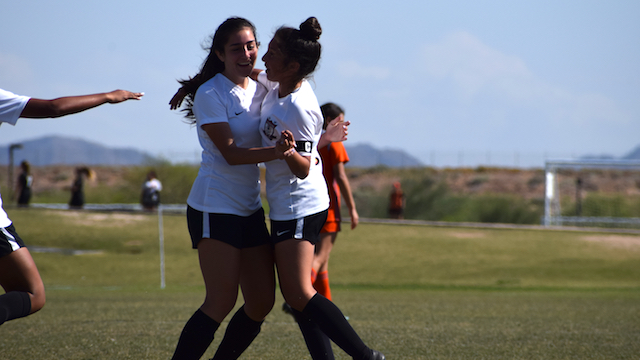 Article Written by
J.R. Eskilson
Published: April 10, 2019
The ECNL National Event in Phoenix (Spring) wrapped up on Sunday from the Reach 11 Sports Complex. The showcase featured some of the best teams from the U17-U13 age groups in the ECNL. TopDrawerSoccer was on hand for all three days in Arizona. Check out the TDS Best XI from the event below.
GK Faith Luckey, Arizona Arsenal U14 – Luckey recorded two shutouts during the three-game event. She was dominant in her performance on Friday. She showed skills in every technique required of goalkeepers, and added a bit of courage on top of it.
D Gianna Newby, Heat FC U15 – Newby was a standout for Heat. She did exceptionally well in 1v1 defending situations. She was also good on the ball at distributing to her teammates. She was a commanding presence for her squad and put in a great showing. Jordan Brown and Ainsley Fink were also terrific for Heat.
D Leilani Ngo-Harris, LAFC Slammers U13 – Ngo-Harris was an exceptional prospect from the youngest age at the event in Arizona. She was a terrific defender and did well at shutting down the opposition.
D Alec Baumgardt, Crossfire Premier U16 – The versatile utility player had a number of standout moments on Friday. She made some spectacular passes from the midfield. She was also terrific in the defense.
M Lauren Wrigley, PDA Blue U16 – PDA did not give up a goal while playing in Arizona, and there were a number of worthy candidates from the squad for a spot on the Best XI. Wrigley's work rate in the center of the field gave her the slight edge. She worked her tail off and set the tone for her group. She also made life tough on the opposition because she covered so much ground and won a number of duels. Emily Chico and Katherine Coyle were also terrific for PDA Blue.
M Mia Casey, Strikers U14 – Casey was a standout for Strikers. She's brilliant on the ball and creative in the attack. She finished the weekend with a goal in each game for three goals an assist from Phoenix. She has a very bright future.
M Maya Carter, Michigan Hawks U15 – Carter was a standout for a terrific Hawks team. She was dynamic in the attack and she showed great vision in picking out her teammates for an assist while being surrounded by defenders.
M Joelle Jung, MVLA U15 – Jung is a joy to watch. She scored twice and added an assist in MVLA's wild 3-3 draw against PDA Blue, which is one of the top teams in the U15 age group. Jung is difficult to contain. She's skillful and incisive. She punishes defenses with her passing as much as her scoring. She's a prototypical No. 10 for the future.
F Karlie Lema, MVLA U16 – Lema was the top forward at the event. She could do anything she wanted against the defense. She had the skill to turn a defender on her back. She had the strength to hold a defender off the ball. She had the speed to break away from the defense.
F Samantha Balzano, PDA White U16 – PDA White rolled through the competition in Phoenix with a perfect 3-0 record. Balzano had an outstanding game on Saturday in the win over Santa Rosa. She scored a terrific goal, and did not put a foot wrong in the game. She worked hard defensively and helped her side set a high line of pressure.
F Cameron Fields, Mustang SC U15 – Fields' standout moment was a terrific finish off a corner kick. Her header found the bottom corner of the net and she snapped her neck with force to drive the ball into the goal. She was a catalyst for the Mustang attack, which was terrific through the three games in Arizona. Rebecca Sherry, Sarah Santiago, and Kiana Tahmassebi were also standouts for the Mustang U15 group.